Bottle Necklaces with gears ans keys
Bottle Necklaces are the perfect piece of wearable steampunk art! "Time in a bottle". These one of a kind keepsake bottle necklaces features a vintage glass bottles circa 1940's, filled with various antique, circa 1920 to 1940's, watch parts, gears, wheels and keys.
I've embellished some of the necklaces and vials with two antiqued gold filigree caps and a hand wire wrapped faceted black Swarovski beads and briolette drops and capped them in filigree.
These bottle necklaces are beautifully detailed, antiqued patina filigree caps with a genuine freshwater pearls, black crystals, and brass findings.
The bottle necklace has been attached to an ornate toggle clasp. This allows for you to easily put on or take off the necklace. An antiqued patina brass oval link chain, completes these necklaces.
You can find more bottle necklaces here.
Materials to make these Amazing Bottle Necklaces
Antique watch parts
Vintage glass vial
Filigree
Brass chain
Vintage gears
Antiqued silver
Skeleton key charm
Pendant
Watch jewelry
Genuine freshwater pearls
Wire wrapped
Vintage watch movement parts
Bottle necklace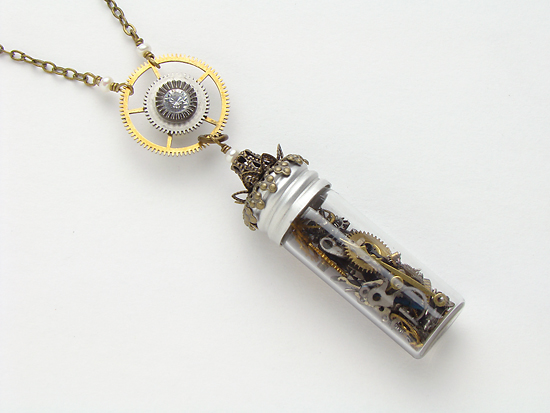 This bottle necklace description:
I've embellished the vial's cap with a formed to fit floral motif filigree antiqued gold "cap" and two beautifully detailed, antiqued filigree accents, finished by a genuine freshwater pearl, all which have been securely perched on the top of the screw on lid.
The antique glass bottle hangs from an antique 1900's gold brass pocket watch gear, that has been stacked with an additional steel watch winding gear set with a clear Swarovski crystal stone.
Two genuine freshwater pearls attach the gears and bottle to a antiqued patina brass oval link chain, completing the necklace.
The glass bottle/vial pendant measures: 2-inches tall and 7/16-inches in diameter.